If you're on "the market" for some red cabbage recipes, then you've come to the right place. We really know how to treat this versatile and healthy vegetable!
I feel like plain cabbage gets much more rep than its red sister and so it's time to rectify that. Let's make a list of red cabbage recipes you can really sink your teeth into.
6 red cabbage recipes to try
Is this warming chicken soup for four full of all the goodies? Let's see. We tossed into the pot potatoes, celery root, red cabbage, carrots, and the ever-healthy garlic and onion. It even has apples in it! We flavored it with cumin, coriander, and dill. So, the answer is 'yes!'
Let's bake us a frittata! Yes, bake it instead of frying it and let's make this one vegetarian. We'll base it on grated potatoes and shredded red cabbage. Let's make it hot by tossing Jalapeno into the mixture and you can even garnish this frittata with sliced chili pepper. Make it red chili.
Nutritious red cabbage salads are yummy and crunchy, so let's make one. We want it to be refreshingly sharp and only mildly sweet. We achieve this with balsamic vinegar, mustard, and quince. This salad has texture, all right, but you may want to augment it further with crumbled pecan nuts. What do you say about that?
You just stumbled upon a colorful and delicious home-made hot dog like no other. Grill mushroom and zucchini slices together with green chili. Then mix shredded cabbage with mayonnaise. Use these and juicy slices of cherry tomatoes to upgrade your regular hot dog.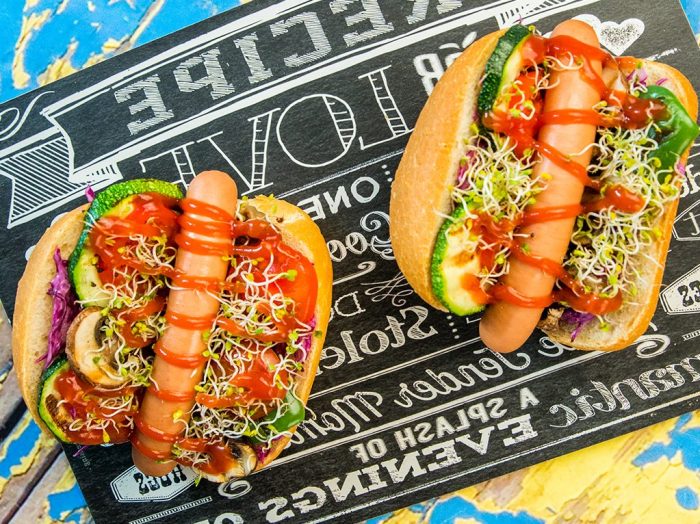 Simple, satisfying, surprising. This is how you'll find this cod fillet and red cabbage delicious dish. You only have to braise some red cabbage in a skillet, add some raisins, chili peppers, and the star of the show: cod fillet! Add some honey for that extra sweet touch, to offset the bitterness of the red cabbage. The results are simply spectacular!
Want to cook something that's fast and also full of flavor? You can try this simple beef noodle recipe. You'll also need veggies, so for this recipe, we recommend red cabbage. It has a rather subtle flavor, that balances the taste of beef and spices. And speaking of spices, this is, after all, an Asian inspired dish, so there's no shortage of them whatsoever!