The PB&J sandwich is something that inevitably reminds us of our childhoods. It's a classic for a reason. But if you're feeling adventurous and want to go 'off the grid', here's how to make your peanut butter and jelly sandwich better.
Whenever I feel tired and I need a jolt of energy but also something that calls to mind good, pleasant vibes, I make myself the good ol' PB&J. But just because it's a snack for kids after school, it doesn't mean that it can't be amazing for someone who needs more from a sandwich. If you need more flavor and more texture, try these ways to make your peanut butter and jelly sandwich better.
You can take this famous snack to the next level by adding some simple toppings or *gasp* switching out some of the ingredients. Unfortunately, all of the tips below on how to make your peanut butter and jelly sandwich better are not accessible to people on a strict nut-free diet.
Simple ways to make your peanut butter and jelly sandwich better
1. Choose fancy jam
Every once in a while, you deserve something special. So why not put down grape jelly for a sweet minute and go for the more expensive brand of jam to go with your chunky or creamy peanut butter? You can add extra texture to the sandwich if you add some jam with whole fruit in it.
2. Switch out the 'PB'
I know! It sounds like blasphemy, right? How can PB&J exist without peanut butter? Well, you can try other nut butters for this task. It doesn't mean you should give up on peanut butter forever. Just sometimes alternate with glorious varieties of almond butter, pistachio butter, cashew and hazelnut butter. You can also make your own kinds of butter. In specialty stores you could even find sunflower and pumpkin seed butters.
You can also straight up make a peanut butter and bacon sandwich, because why would you not?
3. Go for bacon or other savory jams
There is such a thing as bacon jam. And there is such a thing as onion jelly or jalapeno jelly. Don't be afraid to switch it up. Salty and savory sounds just right to us. And bacon tends to be incredible no matter the forms it presents into. Be right back. Going to buy bacon jam right now.
4. Experiment with bread
Now that I'm back from my very important bacon errand, let's talk bread. We usually make peanut butter and jelly sandwiches better by adding toppings. But we can work on the bread, too. Get some bread with seeds for extra crunch and texture. Or you can toast or grill the bread slices and then add the lovely spreads. What about frying the slices in butter then spreading peanut butter on them? Sounds positively decadent and I am here for it. Not to mention that the sandwich will be nice and warm.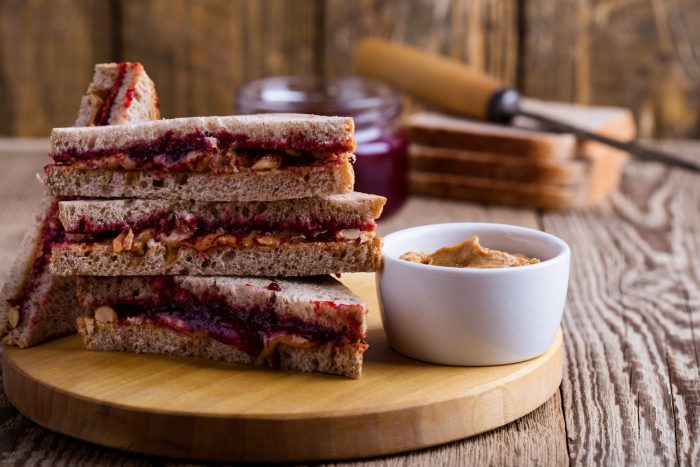 5. Add some spice to your PB&J
It's time to add some spiciness to your classic snack. Go for cinnamon, nutmeg, or cloves. And if you want to go the hot & spicy route, you can't go wrong with cayenne pepper and chili powder. Don't forget the new super spice in town, either: sprinkle some turmeric on your slices of bread and enjoy the ride.
6. Enrich your peanut butter
Get some regular and smooth peanut butter, and add your prefered texture to it. Custom chunky PB, who wouldn't love that? You can add seeds or any types of nuts. You can mix in some coconut flakes. But there are even more incredible ideas out there, like crushed chocolate chip cookies or sprinkles.
7. Add fruit instead of jelly
If you're counting your calories, you can swap out jelly for different types of fruit. That way you'll get rid of a lot of added sugar from your snack. Try strawberries or other types of berries. And if you want to stick close to the classics, go for some grapes in there. You can even peel them, for a closer texture to the jelly.