If you have a waffle iron, making fluffy, golden waffles is a great option for breakfast, even though it's maybe not the healthiest one. But what about troubleshooting the making waffles process? Here are some tips and tricks with maple syrup on top.
I have fallen in love with waffles, I think, thanks to the sitcom Parks and Recreation. The characters, especially the lovely Leslie Knope played by the even more lovely Amy Poehler, have such affection for waffles and sharing them with friends, that I would be hard-pressed to find a gif from the show that explains all of my affection and theirs. I said I'd be hard-pressed, but it's not an impossible task. Here is the perfect one.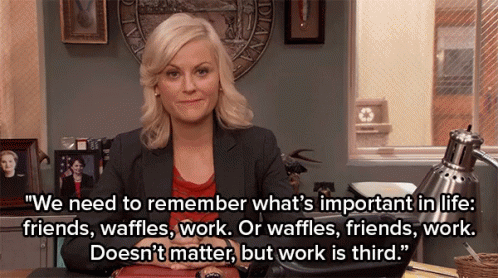 When I want someone to love me, I make them waffles. It's not as weird as it sounds. I believe that cooking for other people is a sign of love, so I want them to feel my love. A waffle brunch is a sealing of the deal with new friends. A waffle breakfast is a lovely start to a new, warm romantic relationship. I do associate this food with love, so that's why it was important for me to get making waffles right. So let's stop waffling and get to it!
Up for trying something off the beaten path? Here are some spinach and oatmeal waffles that are healthy and tasty.
5 tips and tricks for making waffles
1. Get to know your waffle maker
Before you do anything, read the instruction manual of your waffle maker. There are different types and sometimes the cooking waffles process can be different. So no matter the rest of these tips and tricks for making waffles, make sure you know what works for yours. For instance, I've seen advice about using cooking spray or grease on it, but mine really doesn't need it.
2. Make the batter properly
If you use enough grease in your batter, then most likely, your waffles won't stick to the sides of the maker. But if they do, maybe add a bit more grease.
At the same time, don't overmix the batter when you whip it up. Once you got a smooth consistency out of it, you can stop. The gluten in the flour tends to harden, and so your waffles might end up chewy if you overmix the base. And use a gentle motion, blending the ingredients, for the same reasons.
First, mix your dry ingredients and then your wet ones and combine them after that. This will make your waffles fluffy and airy.
3. A watched waffle never cooks?
It's not exactly that, but you should not open the lid of the waffle maker while it's cooking. Not even to check on it. Your machine should have colorful LEDs telling you when you can remove the treats. If you don't wait enough for the waffle to cook to open the lid, it will probably fall apart and rip, which means that it will be harder to remove and also it will not look very good.
4. Clean your waffle maker
Don't leave your waffle maker dirty after you've just made waffles. By all means, enjoy your breakfast or brunch, but once the plates cool, it's best to clean it up, to make sure you will have it for as long as possible in the future. Clean it according to the instructions in the same user manual. Whatever you do, don't throw it in the sink, because it will affect the functioning of your machine.
5. Freeze!
Why waste waffles when you can enjoy your whole batch? If you made way too many, then save the leftover ones by placing them in a freezer bag, with some wax paper between them and keep them in the freezer. You can warm them up in your toaster, microwave, or oven.
Another thing I do: when I make too much batter for the people coming to visit, I keep the bowl with the batter in the refrigerator, covered with plastic wrap and make them the next day.