Everybody knows that sushi equals tradition! We are OK with that and, as such, you'll find a platter full of traditional maki, tempura, and nigiri bites right below! However, this is just one side of the story. There is always room for innovation, change, and exploration. Making sushi is an invitation to have fun.
Did you know you can use sushi's raw ingredients to also make cakes, salads, and a lot more? You can go even further and include non-traditional ingredients into your sushi, like bacon, for example. Whether you stick to tradition, or you like to roam free, these sushi recipes will surely do the trick for you, as they did for us. Enjoy!
8 Sushi Recipes to Have Fun With
Are you organizing a sushi party? Follow these steps and put together your own tempura, California, and maki sushi rolls, as well as the nigiri bites. It's so inviting, so colorful and, we guarantee, so delicious. Rest assured, your guests will gorge on them.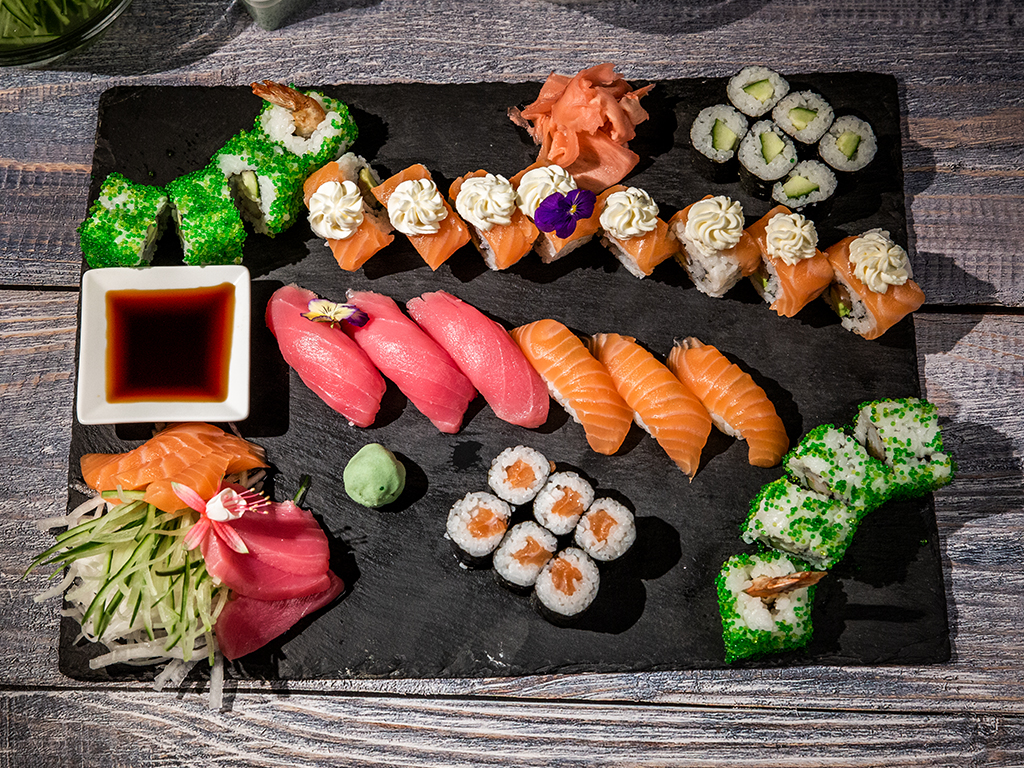 How about a cross between burgers and sushi? This is what you get when you use sushi rice patties as burger buns and hot salmon instead of red meat. Complete this with creamy avocado and fresh lettuce. Try it, we promise you won't regret it.
Imagine your sushi rolls exploded in a creative and peaceful manner right in front of you. This is how they would probably look on your very plate. You will find all the sushi ingredients plus a few more in this healthy and easy salad.
Feeling playful and hungry? Then let's build on the classic sushi rolls to get something more decadent. So, pair the sushi rice, avocado, and cucumber with the ever-delicious bacon. Having other sushi ideas? Don't hesitate to put them into practice. (And do leave us a comment below with your own wild combos.)
Don't these cucumber rolls closely resemble sushi? We thought so, too. We could call this vegetarian sushi with a Greek touch thanks to the feta cheese and Kalamata olives. Adding a bit of hummus makes them even more intriguing. Just as their Japanese counterparts, they're pretty healthy. And even easier to make.
Ok, this has no rice or soy sauce in it so it's not exactly sushi, but rather a twist on it. And what a twist! The cucumber and cream cheese get along very well with the smoked salmon and fish roe. You just need to add the necessary hint of wasabi to give it a challenging hint.
You may think a sushi cake is difficult to make, but actually, it is even easier than making real sushi! Buy the classic ingredients, like salmon, cucumber, sushi rice, and sushi nori, and use a round cake pan to layer everything. That's it!
Sushi is such a creative dish so that you can play with it and invent countless ways of serving it. Here we have placed the rice in individual muffin molds and shaped them into these beautiful cups. The next thing was to top them with some of our favorite ingredients. This was a lot of fun!