Are you still searching for different ways to eat tomatoes because you like them so much that you can't stop buying them? We have seven delicious ideas for you!
I'm a huge fan of tomatoes. They're one of the reasons I look forward to summer above all other seasons. I like to eat them when they're in season and sweeter than the rest of the year. I like buying tomatoes from the farmers' market or taking them straight from my parents' yard.
I must admit that – even if I like the first month of fall very much – I feel regret when summer's ending. So, because I know I don't have much time for enjoying tomatoes (and watermelon!), I plan to eat lots of them these days! Here's how you can do this too if you like tomatoes as much as I do.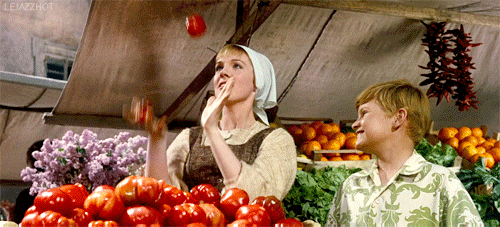 7 ways to eat tomatoes without getting bored of them
1. Fresh on bread
Have you ever tried bruschetta? It's a starter originating in Italy and it means grilled or toasted bread topped with different ingredients. A classic bruschetta is made with bread rubbed with garlic – fresh or roasted – and topped with chopped fresh tomatoes, fresh basil, a few drops of olive oil, everything seasoned with sea salt and freshly ground black pepper.
Toppings may vary, but if you're searching for different ways to eat tomatoes, add them to your bruschetta as long as you still have on hand this amazing fruit (because yes, tomatoes are a fruit). You can make bruschetta with tomatoes and other vegetables, beans, cured meat, anchovies, or cheese.
2. Plenty of salads!
If I eat a steak, I like pairing it with a fresh salad. Slice tomatoes, add some salt, ground black pepper, add a little olive oil and, if you want, some vinegar.
Of course, the tomato salads can be made in unlimited combos. You can make Caprese salad, Panzanella (both traditional Italian salads), or combine ingredients as you like! There are no rules when it comes to salads!
3. Oven-roast them. Yummy!
When tomatoes are in season, why use sun-dried tomatoes? You can roast them in the oven, and then add them to salads, in bruschetta, to soups, or all kinds of tomato sauces. When you roast them, the tomatoes turn soft, tender, and silky. You can also try our ratatouille-style casserole:
4. Do you like stuffed vegetables? Choose tomatoes!  
Cut off the top of each tomato and scoop out the pulp. Then, stuff them with whatever mixture you like. You can choose meat or vegetarian combos, you can add eggs, cheese, rice, or even shrimp, you can stuff fresh tomatoes and serve them that way, or you can roast them in the oven after you stuff them. You can also use all-size and all-color tomatoes. They look nice!
5. Because autumn is almost here: make stews!
One of the two dishes I learned how to make when I was about 12 years old is a simple stew made of tomatoes. You just fry one chopped onion in vegetable oil, then add peeled and chopped fresh tomatoes, season with salt and pepper, and simmer to reduce the liquid. Add fresh chopped parsley just before you take it off the heat, and that's all! I like to make it every summer.
Sure, there are plenty of tomato stews. One of them is the classic shakshuka. But, since tomato stew is true comfort food, many cooks have invented different new dishes: vegetarian tomato stews, fish stews, or some involving meat.
6. Unlimited pasta sauces
You can make one of the most popular pasta sauces using tomato sauce. But, hey, that's a thing you cook up any season, so why not take advantage of the lasts days of summer and make a delicious pasta sauce with fresh tomatoes? We offer you one idea, but there are so many other recipes!
7. Hot or cold soups
The classic cold tomato soup is called gazpacho. It's made by blending raw vegetables and is a fresh dish you can enjoy while it is hot outside. Then (but also until the cold days arrive), you can move on to warm soups. There are many ways to eat tomatoes, and one of them is cooking soups. You can choose vegan soups or veggie and meat soups. You can also keep the soup chunky by just cutting the tomatoes or blend them into smooth soups, like this Sicilian one we recommend you.
Do you want to know how to keep tomatoes fresh outside the fridge? Here's the answer!